The modern era is the computer era. Today, computing machines are replacing humans in almost all spheres of life for a number of tasks. Whether it's education, business, or games, laptop computers are now a preferred choice of a majority of individuals. To fulfill the ever-increasing demands of end-users, a number of manufacturers have buckled up and offer a wide variety of laptops. However, some brands are better than others in certain areas. In spite of the existence of so many companies, Samsung and HP manage to be among top-rated brands. As such, choosing between these two brands can be difficult. However, you can ease this difficult task by comparing HP vs Samsung laptops minutely.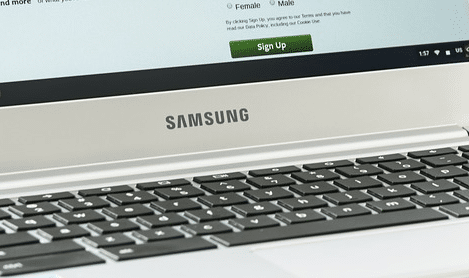 Quick Links For Specific Uses:
Samsung Laptops
It's a South-Korean based multinational company that manufactures and sells technological products. When it comes to laptops, Samsung has always been magnificent. Their laptops are ideal for anyone familiar with the Windows platform. Lately, the brand has also introduced the Android system in their portable computers. Due to a wide base of customers all over the world, Samsung makes laptops in various price ranges to fit the budget and needs of all types of users.
Design
If you consider the design aspect, most of the users assert that Samsung has been always particular about optimizing the laptop design. While the brand focuses more on power and reliability of hardware components, they do offer amazingly-designed laptops. Ativ Book 9 Pro and Notebook 7 Spin are some of the examples of well-designed laptop computers from Samsung.
Additionally, Samsung has encompassed innovative design features in their latest laptops. For example, the Samsung Ativ Book 9 Pro is hugely popular among many users worldwide. It comes with an amazing chassis and slim profile that demonstrate an intriguing visual appeal.
For game lovers, their Ativ Book 9 Plus is one of the hot choices in the market. They come with appealing logos as well as back-lit keyboards loved by gaming enthusiasts. On the point of designing, Samsung outsmarts HP. As an example, if you check HP Pavilion and Samsung Ativ Book 9, Samsung comes out on top.
Components
Components happen to be one of the strong points of Samsung. As well as including high-quality components, Samsung ensures that the components are really powerful to stand the test of time and usage. Since Samsung provides laptop computers from budget products to high-end ones, they make devices with numerous versions of processors, graphic cards, and other hardware components.
For budget shoppers, the Samsung Series 3 NP300E5E-AO5CA seems to be a better bet. It combines performance and power at an affordable price tag. Even businesses can use this budget laptop. Casual users can buy Samsung Chromebook 2 available at the most economical price of 250 dollars. In spite of this, HP beats Samsung on the price issue.
Innovation
Innovation appears to be a big parameter in the Samsung vs HP debate. Samsung beats HP in this area. Samsung doesn't seem to stop experimenting with varying design concepts as well as techniques for laptops. If there's a new design in the market, you'll definitely find a Samsung laptop with that design.
Plus, average 2nd generation Intel processors are included in the machines, making them perfect for general as well as business use. However, the research and development center of Samsung does a great job. In order to increase the market share, Samsung continues to make suitable changes in the designs and production of laptops.
A quick look at the Chromebook and Ativ Book series will let you know how the brand has evolved the notebooks. Compared to older versions, the Chromebook series comes with lightweight and thin laptops. You can also find new features that allow users to control their mobile phones using computers. Even the Ativ Book 9 Plus (with plenty of memory and power) happens to be a favored video editing laptop in the market.
However, the performances of Samsung laptops are on the low side. The machines process tasks slowly. That's one particular area that Samsung has to pay a lot of attention. In terms of performance, Samsung loses to HP.
Customer support
Samsung seems to beat HP on the point of customer support. The brand is supposed to offer one of the best customer services. If you check the reviews of the brand online, you'll figure out that many users highly rate Samsung for fast and efficient customer support.
Plus, Samsung machines are backed by a solid warranty. If something goes wrong with the laptop, the brand addresses the issue quickly. In case the problem persists, users get a quick replacement.
Why Samsung stands out?
Samsung beats HP on certain points. Firstly, Samsung offers a wide variety of laptops from budget machines to high-end products to suit your needs. In addition to this, you can find an amazing assortment of product ranges in terms of innovations.
Samsung never compromises quality for price. In case anything goes wrong with the machine, their handy support staff will address the issue quickly. The support staff of Samsung is highly-rated and endorsed for quick resolutions and service.
Samsung is one of the most innovative and evolving brands out there. They continue to offer more laptop machines with the latest additions and features. All these points make Samsung a favored brand among laptop users.
Hewlett-Packard (HP)
HP is considered as one of the direct competitors of Samsung. It's also popular among laptop users worldwide. Initially, HP began making robust workstation laptops at the most optimum price.
However, those models weren't visually appealing in the eyes of buyers. Their older machines featured high-quality components and durable form factor. Lately, the brand has expanded their manufacturing campaigns in order to tap a wider customer base all over the world.
Design
HP has made substantial enhancements in their laptop designs. If you compare their latest laptops with their workstation models, you'll conclude that the brand has transformed their products to a great extent. Their latest versions, especially the Spectre x360 series includes an aluminum chassis in silvery color with well-carved hinges. That allows users to convert the machine into a tablet.
When it boils down to designing concepts, the race appears very tight. Both Samsung and HP have raised their design standards. However, Samsung stands a clear winner with intriguing designs.
Components
HP enjoys an edge over Samsung in terms of better components including RAM, video card, and CPU. Samsung also includes top-quality components in their machines. However, Samsung lags behind HP in terms of performance quality. HP machines work faster and perform better than Samsung laptops.
The processors from HP are more powerful (5th generation Intel processors) and reliable than Samsung. Also, HP produces sturdy laptops with longer battery life. For these reasons, their laptops are ideal for heavy-duty usage.
Innovation
As mentioned earlier, HP has made tremendous improvements on the point of innovation. They now introduce laptops with a lot better features. However, Samsung is more innovative, and they continue to offer much better machines to match the higher expectations of users. On the other hand, a major portion of HP's focus is geared towards other items like printers and scanners.
HP hasn't been as keen as Samsung in channelizing their efforts on the development of laptop computers. However, the latest laptops from HP are filled with enhanced features and improved additions. While HP may not be as innovative as Samsung, their products are considered one of the best due to their performance and power.
Customer support
HP thrives hard to make sure that their customer support is better and valuable to end-users. Besides phone assistance, HP provides support services via YouTube tutorials and social media networks. In spite of this, many users believe that HP's phone support lags behind Samsung.
According to reports, user grievances are addressed after a long time. The main reason for delays is HP has outsourced their support services. For customers, Samsung's support is much better than HP's support. In simple words, Samsung beats HP in terms of customers support.
Why HP stands out?
HP stands apart and enjoys an edge over other brands for various reasons. First and foremost, they offer laptop machines with powerful processors that perform well than other brands. Other hardware components are also better and deliver quality.
HP presents well-designed machines with sufficient technical resources for computing heavy-duty chores needed by gaming enthusiasts and businesses. That's one particular area where HP easily beats any other brand. Also, HP offers a wide range of laptop machines to suit the varying needs of users.
Another area where HP beats other brands including Samsung is price. For comparable specifics, HP offers more value for your money. In the end, you can say that power performance and economical pricing are the striking features of HP, and that makes HP a favored brand among many laptop users.
Samsung Vs HP Laptops Concluding Words
Both HP and Samsung are top-rated computer brands in the market. They're hugely popular among business owners, casual users, gaming enthusiasts as well as students. However, when it comes to choosing between these two brands, you should check HP vs Samsung laptops in accordance with their features and specifications as well as your budget and needs. While HP enjoys an edge in terms of price and performance, Samsung makes more innovative machines with the latest designs. So, examine their features and specifications minutely and choose the brand accordingly.
Other comparisons and related guides: