So you're in the market to buy the best HP laptop under 500 dollars! Perhaps, you need a good-quality computing machine on a budget. Maybe, you're in need of a powerful laptop that comes with the latest processors. Regardless of the reason, HP is one particular brand that can live up to your expectations in terms of powerful processors and low price. The brand presents a range of machines to fit the needs and budget of users all over the world. Here are some of the best laptop computers from HP that can be bought under 500 dollars.
Also, we have another article on other HP laptop recommendations.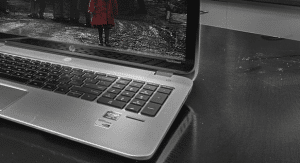 Our Under $500 HP Laptops Recommendations
HP 15t Slim Touchscreen Laptop
Click here for more info and pricing on the HP 15t Slim Touchscreen Laptop
In the name of 15t, HP has offered a robust laptop to users. Whether you want a portable computer for teaching or business, the 15t makes an ideal fit for a large number of users. A quick peek at its amazing features and components will surprise you given the price of the machine.
Punching well-above the market standards, this wonderful machine comes with a sharp display. The visuals may not be as appealing as Apple and Sony models, but the 15t manages to intrigue potential buyers with some innovative visuals. The keyboard is big and comfortable. It lets you enter keys easily without any pressure.
The components are the highlights of the machine. In fact, it's the powerful hardware components that differentiate HP models from other brands and make them stand out even in a crowded market. The 15t sports a 7th generation Intel Core i7-7500 Dual Core 2.7 GHz CPU for powerful performances.
Other worth noting components include the integrated HD (Intel) graphics, a 1TB 5400 RPM hard drive, 8 GB of RAM, and 802.11b/g/n Wi-Fi support. That's not all; the 15.6-inch display screen has an HD resolution of 1,366 by 768 dimensions, touch support, and WLED backlighting. Plus, the built-in HDMI port allows you to plug into your HDTV or monitor for a big-screen view.
From the portability point of view, the machine has some handy features. It happens to be less than 1 inch in thickness, making it easy to carry wherever you like. Despite a bigger screen size, the laptop weighs 4.21 pounds, and that's a big plus for users who need a machine for better, bigger presentations. Most importantly, its longer battery life (eight and a half hours) assures that you can carry out your chores uninterruptedly. In the end, the 15t is a solid workhorse machine that can serve you well while you're away from your desk.
---
HP 1NW56UT Laptop 250 G6
Click here for more info and pricing on the HP 1NW56UT Laptop 250 G6
In case you're craving for a powerful business laptop without burning your pocket, the 1NW56UT might be your best choice. The latest model is a bit faster and includes certain specific enhancements that will sway you. That's one of the key reasons why this machine is in a position to bag one of the top spots for the best HP laptop under 500 dollars.
Among the most stunning features of this wonderful machine is its intriguing display. You get to cherish a 15.6-inch display. A wider screen allows you to carry out your day to day or business chores in a more efficient manner. Also, a bigger screen can be an ideal choice for those who need to provide constant presentations about business or teaching.
The laptop also includes a better, powerful processor for speedy processing of complicated tasks. The machine is powered by the 7th generation Intel processor. Other highlighting inclusions that come with the model at a smaller price tag are the 500 GB HDD storage and 4 GB of RAM. Ideal for Windows 10 operating system, the machine boosts your calculations and performances with lightning speed.
Gaming enthusiasts and graphic designers should be glad to learn that the notebook has the HD 620 graphics card. That means designers and game lovers have a lot they need to enjoy their chores. Also, the longer battery life makes certain that the machine is highly portable for outdoor tenures.
With a weight of around 4 pounds, the laptop is easy to carry. Also, it can withstand any slip and fall damages. One particular inclusion that users may feel proud of this machine is it can suppress background noises as well as keyboard clicks with HP's noise cancellation software. In a nutshell, the 1NW56UT is a lovely machine that users may want to own for their daily tasks, simple as well as complex ones.
---
HP Pavilion 15 15.6″ IPS Touchscreen Full HD (1920×1080) Business Laptop
Click here for more info and pricing on the HP Pavilion 15 15.6″ IPS Touchscreen Full HD (1920×1080) Business Laptop
From its sleek and slim build to powerful features, the HP Pavilion 15 impresses users on every level. Whether you want a machine for casual chores or business use, HP 15 is one of the best choices. Most importantly, the economical price of this high-performing laptop has it made it hugely popular among serious users.
It sports a sharp-looking and gray finish to allure any passer-by or potential buyer. When you're set to watch a movie or play business presentations, you need a bit bigger screen. This is where the HP pavilion's 15.6-inch screen comes to resolve your issues. With sharp pictures and clear sound, you can savor movies, business presentations, and whatever you like.
HP is well-known in the market for using power processors. This 15.6-inch model lives up to this tradition and includes the 7th generation processor from Intel. Movies and games come to vivid life on this amazing machine. Also, it sounds as good as it looks with the magnificent HD audio.
You also get storage of 8 GB SDRAM. Other important components include a 2 TB SATA HDD (5400 RPM) and integrated Intel HD graphics 620. Bluetooth 4.2 combo and multiple ports usability are other worth noting features. Plus, the chassis is tough and study as you may expect in any HP laptop.
In case you're on the move, you may need a machine that's highly portable, and this model does the job wonderfully. With the longer battery life, you can continue with your presentations and calculations without worrying about any sort of disturbance and interruption. If you're in the market to buy a simple, intuitive laptop for business uses that's powerful as well as affordable, look no further than the HP Pavilion 15 15.6″ IPS Touchscreen Full HD.
---
HP ProBook x360 11.6″ G1 EE Notebook
Click here for more info and pricing on the HP ProBook x360 11.6″ G1 EE Notebook
The ProBook from HP is home to modern users who want to have a 2-in-1 convertible laptop. It can match the likings of Dell Inspiron in many respects. Users looking for an affordable alternative to Dell Inspiron may find the HP ProBook x360 as the best replacement. While the model may not match the visuals of Dell Inspiron, it can definitely compete in terms of performance and power.
Whether you need a machine for browsing, word processing or complicated tasks, the ProBook features everything you need. Priced well under 500 dollars, the laptop is made out of plastic. Another downside of this economically-priced model is its dim, low-resolution display. The display is sharp and okay for users, but it lacks the luster you may want for power presentations.
Wrapped in thick plastic, the HP ProBook resembles a Lego toy. A stippled finish presents texture to the lid, and that's outlined by a rubber (hard) barrier. The display is bordered by thick bezels that give a blast to this powerful machine. Also, you get a fine selection of ports. The laptop houses a lock slot, a USB 3.1 port, and a USB 3.1 Type-C port.
Although the screen is just 11.6-inch, the touchpad and keyboard are just amazing. The tactile keys provide a fairly comfortable typing experience. Equally convenient is the touchpad that you may use for browsing the web or other chores. Filled with an Intel CPU processor, the laptop offers you 8 GB of RAM and 32 GB of flash (eMMC) memory.
While the model is basically meant for educational purposes, you may use it for day to day and business chores too. The long battery life makes the model highly portable for lengthy tasks. With little care and attention, you can enjoy the services of this powerful machine for years.
---
HP Chromebook x360 14-14″ FHD Touch
Click here for more info and pricing on the The HP Chromebook x360 14
Chromebooks dominate the classroom and now they're marking their entry into your workplace. The HP Chromebook x360 14 is a premium machine targeted at enterprise users who need the security and safety of Chrome OS and management tools presented by Chrome Enterprise. This one of a kind laptop offers many things that you may find in other business-based laptops from HP.
It includes a durable, sleek aluminum chassis and a class-leading keyboard. The 14-inch display is sharp, which makes it perfect for business presentations. However, the resolution is a bit dim, and that may let users down. Equipped with Intel Core CPU, the laptop allows users massive storage with 8 GB of RAM and 64 GB of flash (eMMC) flash storage.
Sleek, sturdy, and simple, the Chromebook x360 14 has a gorgeous design. With a black keyboard and silver aluminum frame, the x360 includes some of the aesthetics of MacBooks that you see often. Although there's an agreeable business-friendly quality, a splash of color would have made the visuals even better. You get to enjoy a decent assortment of ports, including a USB Type C charging port, a lock slot, and a USB 3.0 port.
Other noteworthy features are the keyboard and touchpad. The well-designed keyboard lets you type comfortably without any pressure. On the other side, the touchpad allows you to browse the net and do other tasks seamlessly. As with any other HP machine, the laptop is able to withstand normal slip and fall incident without posing any real issue.
Plus, the battery life is longer. You can do a lot of things uninterruptedly without worrying about the battery being drained. All in all, the model seems to be the best HP laptop under 500 dollars for business owners.
---
HP Stream 14
Click here for more info and pricing on the The HP Stream 14
The HP Stream 14 is ideal for modern users who expect comfort, speed, and portability from their laptop without bothering about the bland design. It's a 14-inch laptop that comes with a sharp display. However, when compared with other brands, the display resolution is on the lower side.
Although professionals may prefer Apple's MacBook Pros and Dell XPS laptops, the higher price of these machines can keep users from owning them. In order to tap the budget constraint of users, HP has introduced the stream 14 model. Without denting your wallet, you can own a machine that can match Dell and Apple laptops in many respects with some cut corners.
The model features a lightweight plastic chassis with a weight of 3.11 pounds. The keyboard and the touchpad are comfy and easy to use. As far as ports are concerned, you've some good choices. You'll find two USB 3.0 ports, an SD card slot, and one USB 2.0 port. Equipped with the Intel N3060 processor and Intel HD graphics 400, the laptop provides 32 GB of flash (eMMC) storage and 4 GB of RAM.
The performance and design of the machine are as fantastic as you may expect in any HP model. Even the power-sipping CPU stretches the battery life to 7 hours. That ensures you can carry out your presentation and calculation chores effortlessly like a breeze with no interruptions.
As far as durability goes, HP boasts of offering highly durable models. That applies to Stream 14 and the machine can sustain minor slip and fall incidents. In the end, you could easily conclude that the Stream 14 is the right choice for professionals and business users looking for a powerful machine at an affordable price tag.
---
Closing thoughts
Buying a good-quality laptop computer is never an issue, thanks to the availability of a number of brands in the market. Although most of the brands are worth your attention, their models may not match your specifications and budget at the same time. Some models may be pricey, whereas others may come with less than desired specifications. In such a scenario, it's advised to depend on a popular brand such as HP that blends quality and price perfectly. Just assess some of its highly-rated models (listed above) in view of your needs, and you could be able to pick the top HP laptop under 500 dollars for any situation like needing an HP laptop for college.