Thanks to the penetration of the internet in remote villages and small towns, and the increasing numbers of online schools, kids as well as their parents now have the opportunity to study their preferred courses from the comfort of their home. All that they require is a computer connected to the net to pursue their studies. The falling prices of laptops has made them the gadget of choice among these people. Unlike desktops, laptops are light in weight and can be effortlessly carried from one room to the other. We shall discuss, in brief, about the five best laptop for online school currently available.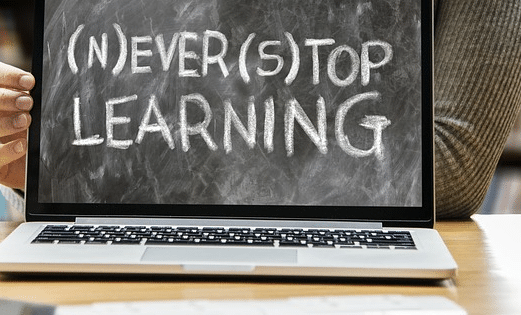 Our Online School Laptops Recommendations
Microsoft Surface Pro 6 Laptop
Click here for pricing on the Microsoft Surface Pro 6
While there is no doubt about the popularity of Chrome OS based laptops, one cannot deny the fact that laptops based on the Microsoft operating system provides them an opportunity to use the Microsoft Office Suite. Targeted at students or teachers who want a budget friendly laptop, the Microsoft Surface Pro 6 is light in weight, but has sufficient processing power and boasts of a battery that lasts the whole day. It has Intel Kaby Lake Refresh 8 generation processors that permit quad code processing, and supports the Surface Pen Stylus by Microsoft, allowing you to sketch plus take notes by hand as well. You can attach a TypeCover keyboard dock through its six-pin port. The unit is both wide and stable. I loved the keyboard dock feature that features magnetic strips, which allows it to snap and lock into place snugly. This laptop now boasts of a stronger contrast ratio compared to its previous model. It also has more power, thanks to its new processor.
In my opinion, it is one of the best laptops for students, even though it does not have the power required for complex media encoding and rendering. The battery provides approximately 13 hours of power. The unit has a 12.3 inch PixelSense display boasting of a resolution of 2736×1824, which is extremely good. You will not find any bloatware on this device. Like most Microsoft laptops, this model too includes Windows Hello facial recognition. The infrared webcam used for facial recognition is accurate and fast. In fact, I found myself logged in into Window 10 as soon as I opened the cover. It has a five megapixels front camera and an 8MP rear camera. Other specs include:
One USB 3.0 port
Mini display port
3.5mm headphone jack
MicroSDXC card reader
---
Dell XPS 15 Laptops
Click here for pricing on the Dell XPS 15
This offering from Dell is on the costlier side, but the features it includes more than make up for it. You get 8GB of RAM, a 9th generation Intel Core i5 processor together with a 256GB solid state drive. I simply loved its 15.6 inch 1,920 x 1,080 FHD display. It is surprising that the same model includes twice the storage space for no additional cost in Australia. I was pleasantly surprised to note that Dell has finally moved the webcam to above the display unit. Although the design is pretty good, it feels a bit dated. The company has not made any changes to the keyboard apart from changing the font on the keys. The high end processor along with the GTX graphics ensures makes this laptop ideal for viewing high resolution videos and images. I was pleased with the gaming performance of the unit. The unit is available in either platinum or black. The responsive and precise trackpad, which supports both left and right clicks plus three finger drag, makes it easy for scrolling through long pages
I was surprised when its 57 watt hour battery did not run out of power even after using the laptop for more than 20 hours. I doubt if any other laptop at this price range offers so much computing power on a single recharge. The device is extremely light in weight, tipping the scales at 4 pounds. At 0.66 inches, it is one of the thinnest laptops I have come across. The mains adapter shipped with the device has a USB-A port, which you can use for charging mobiles. It does not disappoint on the port factor two and contains:
Two USB 3.1 ports
One USB-C port with PowerShare and Thunderbolt 3
One HDMI port
One headset jack, and
One SD card reader
---
Acer Swift 5 Laptop
Click here for pricing on the Acer Swift 5
Available in two different configurations, we shall evaluate the lower priced model. Look no further than this device if you are searching for an ultra-light as well as productivity oriented laptop. Acer has introduced a 15.6″ 1080 pixel (1,920 x 1,080) screen to this series. This gadget stands apart from the others due to its premium flair and stylish design. For those who are interested, the high end model has more RAM, better processors, and storage space. The budgetary model that I am reviewing ships with 8GB of RAM, Intel Core i5-8265U quad core CPU, and a 256GB solid state drive. At 2.2 pounds, the unit is quite light, thanks to its magnesium-aluminum and magnesium-lithium alloys. The wall charger is extremely small… slightly larger than a smartphone's charger. I liked the backlit keyboard, which makes typing in the dark an easy task. A fingerprint sensor, which works with Windows Hello, and allows for biometric login is located below the keyboard.
The design of the trackpad is extremely good but it fails to register properly when I tried resting one finger on it to be ready to click and tried to move the pointer with the other finger. The unit boasts of several ports, all of which are placed on the side of the device. The left side contains the power connector, one Type-C USB 3.1 generation 2 port, one HDMI port, and two USB 3.0 Type-A ports. The right side boasts of a headphone jack and a lock slot. The screen is extremely bright and I did not face any problems while using the unit under direct sunlight. Unfortunately, this unit left me feeling let down because of its 0.9 megapixel camera. I had expected a higher resolution camera at this price range.
---
Asus ZenBook 13 UX333FA Laptops
Click here for pricing on the Asus ZenBook 13 UX333FA
Mirror, mirror on the wall… the Asus ZenBook 13 UX333FA, is, without any doubt the fairest ultrabook available. Boasting of more hardware than its competitors and a bezel less screen, this machine is tailor made for you. Instead of digging into the screen, the manufacturer has extended a part of the device's frame in order to accommodate the webcam. This laptop boasts of a battery life that blasts the competitors away. It contains a powerful 8th generation Core i5 processor (i5-8265U) and has one of the best chassis I have seen on laptops at this price range. I was disappointed by the dim display of this unit's 13″ display, poor speakers, and short keyboard deck. Despite these drawbacks, this is a premium laptop available for a wallet friendly price, and is unarguably amongst the best laptops for students. It boasts of an Intel ultra-high definition 620 graphics processing unit together with a 256GB solid state drive. Unlike its competitors, it has a black sleeve for carrying the device around.
Weighing 2.7 pounds, this device does not strain the hand when carrying it around. However, it is slightly thicker than the other laptops in this review. It boasts of a HDMI 1.4 port, a power jack, and a USB Type-C port on the left side, whereas the right side has a headphone jack, one USB 2.0 port together with a microSD card slot. I had expected the manufacturer to include a USB 3.0 port and Thunderbolt 3 on its chassis. Although the manufacturers have included a large 13.3 inch, 1920 x 1080 display, the display is colorful but dim. While I was pleased with the feel of the keyboard and loved its white backlighting, I felt uncomfortable with the short length of the deck and the tight spacing of the keys. The touchpad too, is too small for using it comfortably, but was soft to the touch and responsive too. The two finger scrolling and three finger tab swiping features worked perfectly. The battery lasted for a whopping 11 and half hours at 150 nits of brightness. The icing on the cake is the 720 pixels webcam, which delivers excellent quality images.
---
TOSHIBA Laptop Tecra A50-01R01S Laptop
Click here for pricing on the TOSHIBA Laptop Tecra A50-01R01S
Surprise! This is the only laptop in this review, which included an optical drive, and is available for a pocket friendly price. Expect excellent performance from this unit because of its comfortable keyboard along with an Intel Core i7 central processing unit. I was not particularly impressed with the design but was amazed to find that this laptop contained a removable battery. This implies that I can carry a spare and fully charged battery for using this device in places where power is not available. This laptop keeps on surprising me with its awesome features such as a 1TB hard disk drive and TruTalk dual microphones. The included 4GB DDR4 RAM is more than sufficient for the requirements of students. It runs on an included Lithium Polymer battery. Tipping the scales at five pounds, this laptop is heavier than the others in this review.
This laptop ships with Windows 10 preloaded, meaning you can start using it as soon as you unpack it. I was not overly impressed by the low quality picture of its 15.6 inch display that has a resolution of 1920 x 1080 pixels. I was, however, disappointed with the number of ports provided. This unit has only one HDMI port and two USB ports. Since its graphics card does not have any dedicated memory, it leeches the included RAM. Most laptops have dedicated panels for hard disk drives and RAMs, but this feature was not available on this device. To be frank, I had expected a lot from Toshiba, but they let me down with this product. This unit gets the lowest ranking among all the five laptops I have discussed in this review. If you want a good device, look for one among the others.
---
Good Online School Laptops Conclusion
You need a good laptop with responsive keyboards and touchpad while studying online, as you move from one part of the tutorial to the other. Apart from this, you also need to check the battery life as well as if the display works properly under sunlight, as you will be using the device while on the move (like completing the assignments provided by the online school when you are traveling on the bus or train). These are the factors you should check for to deduce best laptop for online school.  Looking for more suggestions?  Look at this laptops for 10 year olds recommendations.